Posted December 3rd, 2013 by
Lisa
As part of this year's effort to embrace the holiday season for the whole month of December, I'm doing a couple of projects. First, you may remember me mentioning Picture the Holidays last week (signups are still open until December 10th, if you think you might want to treat yourself).
I'll be following seasonal photo prompts every day. It'll be fun!
The images above are from the first few days of class: Turning over a new leaf, Reframing the season, and Get grounded. (The prompts come with a lot more explanation than that, of course, and Tracey supplies one of her own images for inspiration.)
There's also A Very Merry Advent, which is a great little eBook I bought recently. It includes a printable calendar, and is jam-packed with holiday activities to do. The idea is to pick your favorite 24 activities and schedule them for the days leading up to Christmas. Some of them are fairly involved (like "make something new out of an old sweater") but others are super simple ("have a hot chocolate night") and easily do-able on a busy day.
On Sunday Flufy and I went to the local tree lighting (hot pretzels, coffee, elves on scooters, Santa, fireworks!), and yesterday I made a red and green paper chain (two of them, actually – one to count down the days until Christmas, and another to decorate the family room). I'm not sure yet what today will bring. Maybe orange pomanders. Maybe decorating the living room. Maybe something else entirely. Who knows? That's part of the fun.
This December is different than any other December in over a decade for one BIG reason: My book store, Polka Dot Creations is completely and utterly closed. (Last Christmas it was mostly closed, but I still had one big shipment of preorders I had to tackle.)
And while I do still have a business selling my handmades, the small volume of orders I will get between now and Christmas is totally manageable.
That mad rush of processing orders and shipping books, dvds, and magazines that always came with owning a book shop is something that I will not miss. I always resented the intrusion into what I thought should be a magical family time every December. Some years, I also had custom family portrait ornaments or custom crochet hooks to get out the door on top of the book store orders. It was always very stressful, and I couldn't even begin to think about Christmas until I closed up the shops, usually December 15th or later.
I would cram a month's-worth of merry-making into about a week, culminating in my annual December 23rd Meltdown of Epic Proportions.
Well, not this year! I have no book store sapping my energy, and no custom orders to finish up. I'm eager to see what it's like to spread this holiday stuff out over several weeks, pacing myself as nature intended, taking photos and doing a few fun activities all along the way.
And I expect there may even be time to (*gasp*) clean the house! But don't tell Neil I said that. I wouldn't want to get his hopes up.
Posted December 1st, 2013 by
Lisa
Please join me in thanking this month's sponsors! I am excited to have the opportunity to share with you each month a little bit about the shops and services that have choose to sponsor my blog. Please show them a little love.
Also? If you would like to see your shop here next month, I would love to have you. Each option includes an ad spot on my sidebar, inclusion in the monthly roundup (this post you are reading), and at least one round of shout-outs on Facebook, Twitter, Google+, and Pinterest. Get the scoop on sponsorship here.
And now, without further ado…
–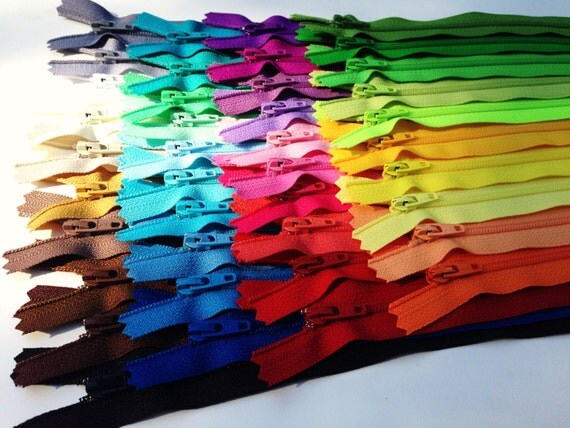 What you will find: Ykk zippers wholesale, wooden buttons, coconut buttons
From the K and C Supplies About page:
We are a YKK zipper distributor and are committed to selling USA made High Quality YKK zippers at wholesale prices. We also offer a variety of buttons and are planning to add fabrics and purse hardware to our shop in the near future.
If you would like to learn more about dress and handbag zippers we sell, please visit our blog: http://www.wholesalezippersusa.blogspot.com/
–
Thank you so much, lovely sponsors!
Would you like to see your shop or service here next month? See my Advertising page for more details! (Not sure? see this post for some promo codes that will let you try a spot for free!)
Posted November 29th, 2013 by
Lisa
Do you remember when Black Friday used to just be called "the day after Thanksgiving?" I'm starting to think back fondly on those days…
I don't know if I'm just getting older and crankier, or if this Christmas creep into November is actually worse this year. It sure feels like it. I'm a super huge fan of Christmas, don't get me wrong, but I also have always loved Thanksgiving. I hate to see it get crowded out, you know?
Ah well. I'm doing my part by staying home in my PJs geeking out on one thing or another today. No shopping for me, unless it's late at night after all of the crazy people have gone home. And even that is not likely, because then I'd have to get dressed.
(Actually, I was dragged out to Walmart last Saturday after 9pm by my teenager who insisted he needed cheap sweats right away for costumes he was making, and while we were there, we saw this family in pj pants and slippers. These people were out in public, shopping in their pajamas. So, is that now allowed? Because if it is, I'm going to start doing my food shopping at Midnight, just for kicks…)
On Flickr
The mosaic below represents other people's pictures that spoke to me this week. Be sure to click on the titles below the mosaic, if you want to know more about the image or the photographer behind it.
1. Jaffa cake.4, 2. "What a large volume of adventures may be grasped within the span of his little life by him who interests his heart in everything.", 3. Making berry jam, 4. grasses and flare, 5. Diamond Haze – FOR SALE – A LA VENTA, 6. Crochet coasters, 7. African Flower Cushion, 8. Honey, 9. Color Play a Handwoven Raw Silk Scarf
Around the Web
I spend some time each afternoon, Monday through Thursday, sharing my favorite crafty links through social media. And then I repeat them here on Fridays.
Yarn
Fabric + Scarf Inspiration
Crafty Doctor Who!
Chalk Board Love
Happy Last Friday in November! (cue the holiday tunes…)
Posted November 26th, 2013 by
Lisa
Do you remember a few years ago when I took all of those Picture classes from Tracey Clark? It started with Picture Summer. Then I did Picture Fall, Picture the Holidays, Picture Winter, a self-paced version of Picture Spring, Picture Color, and finally Picture Inspiration.
I really burned-out on that kind of class after Picture Inspiration, and I took almost three years off.
I've been ignoring all of the Big Picture Classes marketing emails since then, although I didn't unsubscribe because, hey, you never know when I'll be open to it again…
Long story short, I'm open to it again
Picture the Holidays is back, and it's been updated for 2013. About half of the prompts are new, and the others have been updated in some way. And even if they are not drastically different, it's alright because I am different. Or, at the very least, I have gained a few years of photography experience: I have new equipment and new perspectives.
I think it's going to be a lot of fun.
And goodness knows, once the Christmas season really gets into full swing at Casa Clarke, I will need something I can post here that doesn't require me to come up with a lot of words. Me no talk good when me full of stress.
I do intend to take it easy, holiday-wise. But then, don't I always? Yeah, I play it really, really cool until about December 23rd, and then HOLY MELTDOWN!
This year's goals: no meltdown, happy family, lots of pretty pictures.
I think I can swing that.
If you feel like doing the photo-a-day thing in December, too, and you could use some creative prompting, take a look at Picture the Holidays. It's fun, and there's a built-in community you can take advantage of, if you like sharing your images and chit-chatting about them.
My sister is taking it with me this time, which is so cool. She's been getting interested in photography lately, and it's going to be so much fun to have someone to talk picture-taking with whose eyes won't glaze over after the first few minutes. Yay!
Think you might be interested? The class starts December 1st, and you can enroll up until December 10th. You can get all of the details here.
I'm excited for this, but I'm also glad it doesn't start until December 1st. I'm not done with Thanksgiving yet! Please pass the pumpkin pudding.
P.S. all of the links to Big Picture Classes are affiliate links, but I promise, I would still have shared this with you even if they weren't
Posted November 24th, 2013 by
Lisa
As I (try to) write, my kids are rehearsing a fight scene from a movie they are creating for their new YouTube channel. It's not easy to focus on patchworky things while they battle in costume nearby. I'm very distracted by their whole process. It's actually kind of interesting, and I love that they've put so much effort into this project. Still, it's not very conducive to writing…
So here I sit, sipping coffee, thinking about how to best present my new patchwork scarves to you, and stopping now and then to give Boring Office Guy costuming advice. He's the mastermind behind their new project, and he's done most of the work for it. I may be biased, but I think it's pretty cool.
Anyway. Must focus! Scarves!
I made these three patchworky scarves last week. They feature prints from Kate + Birdie Paper Co.'s Bluebird Park collection, and a soft flannel lining. They're each roughly 4 inches x 60 inches, and they work equally well peeking out from under a wool pea coat as they do on top of a cable knit sweater.
I've been wearing my own patchwork scarf for years.
These three new ones are available in the shop, for your gift-giving pleasure
Now, for those of you who are comfortable sewing a straight line on a sewing machine, I've got you covered, too.
My new eBook will tell you how to take a single charm pack and a yard of flannel, and turn them into three patchwork scarves – one for you, and two for your gift list!
Why a charm pack? Simplicity! A charm pack usually includes pre-cut squares of a single fabric collection, which means all of the cutting and most of the color choices have been made for you. You can get right to the fun part of sewing it all together.
And, of course, if you like cutting and choosing color combinations, you can make your own squares from your own stash and use them instead.
Charm Pack Scarf
MOTIVATED BEGINNER level, step-by-step tutorial.
Fully illustrated, 7-page PDF.
Price:
$3.99
So there you have it: Choose-your-own-adventure patchwork scarves (aka, make it yourself, or take one of mine!)
I hope you like them!
P.S. Quilting cottons may not look as cozy as, say, a knit or crocheted scarf, but the flannel on the back really makes it nice against the skin. And if you're making your own, you can use fleece or a thrifted cashmere sweater for the lining if you really wanted to multiply the cozy factor.