I am always so excited when I can finally unveil a new pattern that I've been working on, and this is no exception. I came up with this idea and made the first prototype when I was supposed to be getting my house ready for Christmas company. So, it's been a while in the making.
I think it's fun to give you a little background on the things I do, but if you are in a hurry and just want the pattern details, thankyouverymuch, you can get them right here.
Ok, for those of you still with me, shall I tell you a story?
Once upon a time, my sister-in-law showed me a headband pattern on Pinterest, and mentioned, to no one in particular, that if somebody wanted to make this for her for Christmas, she'd be fine with that. Being the only knitter in the room at the time, I took the hint, found the pattern online and made a few of them. A prototype for me, a gray one for my sister-in-law, and a beige one for my mother-in-law. Like so:
They were happy with their gifts, and so, mission accomplished! But I have to admit, the knitter in me wasn't really thrilled with the headbands.
I didn't like the way the decreases looked going down the middle, and thought it might be nicer to decrease at the edges instead.
I didn't care for the crocheted edge, and thought I could include an edging that was worked at the same time as the rest of the headband.
And I thought maybe a few rows of cables might be a nice substitute for the flower. And so I whipped this up:
Compare, if you will:
I liked it. And I thought maybe some of you would too. So I scribbled down the pattern, and waited for Christmas to be over.
Safely into January, I decided that maybe that pattern should also include options for newer knitters, or people who felt intimidated by cables and increases/decreases.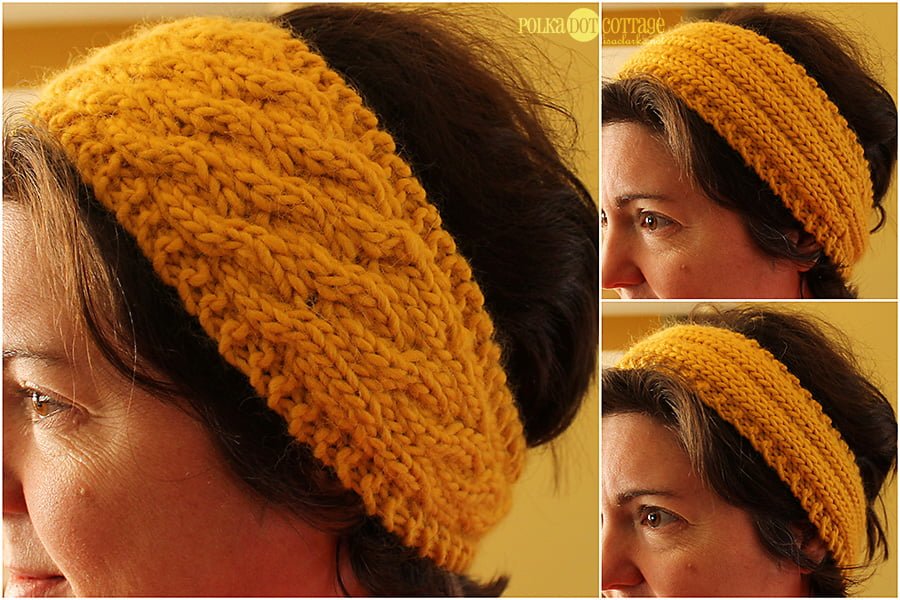 And then I decided that there should also be an option for loom knitters.
And then I decided that I would hold off on the loom knitter option until I had thought it through better (which I now have… stay tuned loomy folks, I think you're going to like where this is going).
And then three lovely people tested my three patterns for me (thank you, Anne-Marie, Kathi, and Yanik!)
And finally I unleashed it into the world (that would be today, in fact).
I hope you like it!
Over the course of the next week, I will be adding Nook and Kindle versions. The PDF version is available right now.  Go forth and toastify those chilly ears of yours!
P.S. Thank you!!
P.P.S. You can queue it up on Ravelry here.
P.P.P.S. I started a new Polka Dot Cottage Ravelry group! Check it out here.