Rhinebeck – the New York State Sheep and Wool Festival – is this weekend, and for the fourth year in a row, and for various reasons, I am not there. Between my traveling companion deciding to go to college after a five-year break and therefore not being available to travel, and my decision to re-allocate my Rhinebeck savings to pay for not inexpensive film and film developing, well, it just wasn't happening for 2023. Better luck next year.
That doesn't mean I don't have a September Sweater to share, and I'm quite pleased with it, which is a relief. A relief, because this is the second time I've knit this pattern, and I wasn't exactly thrilled the first time. Meet my Traveller's End Cardigan, Take Two.
In 2019 we took a family trip to Ireland, and I intended to knit a souvenir sweater with Irish wool, using a pattern from an Irish designer. And I did so. But I disliked the fit. I couldn't wear it without constantly tugging and re-arranging, and it was seriously annoying to wear. Add to that the fact that I didn't care much for the yarn I chose either. Color-wise, and tweediness-wise, it was exactly what I wanted. But something about the drape and the feel of it just didn't do it for me.
Anyway, the original sweater sat in a pile of unloved sweaters for a while, until I decided that I should try again. I enjoyed knitting the pattern the first time. Plus I was pretty sure I could knit a smaller size with one of my go-to wools, and it would be better. I'm happy that I was right. It's been only a few weeks and already I have worn this version more times than I ever wore the one I made four years ago.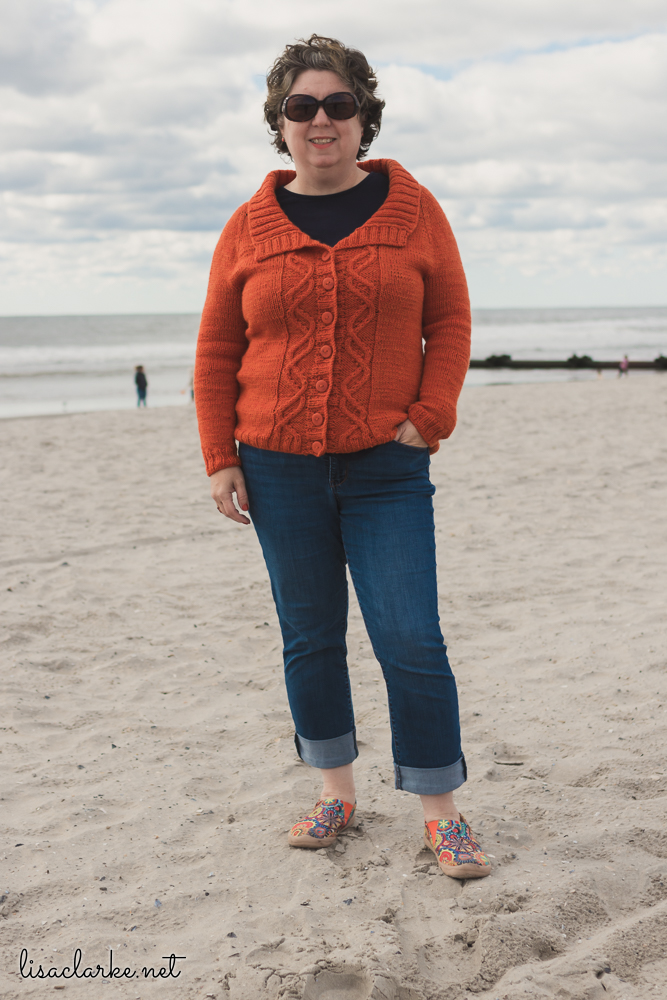 This is quite the color. Very vibrant. But I love it. And I love that it goes with my artsy shoes, a cup of Ocean City Coffee, and the Jersey Shore so well 🧡
The details
Pattern: Traveller's End Cardigan by Carol Feller (Stolen Stitches)
Yarn: Knitpicks Wool of the Andes in Solar Flare Heather (28287)
Modifications: I ignored the innermost waist decrease and increase. Because my waist is not quite as small as I wish it was in comparison to my other measurements 😜
Buttons: Polymer clay, made by me using this method
P.S. The Wool of the Andes link and the artsy shoes link are affiliate links, but the usual disclaimers apply.