I've mentioned before that I belong to a few affiliate programs. Here are the details about that, so you know where I'm coming from with this.
I've never liked visiting those blogs that have ads all over the place, so I've been careful not to create one myself. When I've featured ads on my blog, they've mostly been from affiliate programs I have specifically joined. And I've always kept the ads in unobtrusive spots either on the sidebar, or in the footer. A few years ago, after realizing I only made about $10 for the year total on those ads, I removed them completely. Why give them valuable real estate here, for such a poor return?
Anyway. I'm not getting rich off of ads or affiliate programs, as you can see 🙂
BUT, I still belong to a few programs, and occasionally they email me with deals and such. Usually, I don't even open the emails, but for some reason I clicked on one from KnitPicks last week, and saw this: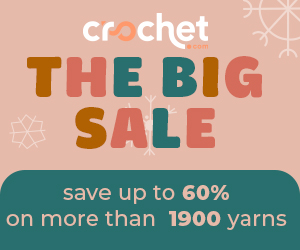 (KnitPicks and Crochet.com are owned by the same parent company, in case you were unaware, and they sell a lot of the same stuff, but also some different things.)
I thought some of you might like this. The sale is going on from today (November 9th) through the 21st, and the images up there should change every couple of days to highlight any special deals happening.
Personally, I am thinking of taking the opportunity to get a sweater quantity of Wool of the Andes. It's nice stuff, and surprisingly inexpensive. I also like Dishie for mandalas and wash cloths, so I may replenish some colors I've used up 🤔
I do get a small commission from anything you buy via those banners above, so if you're in the market for some budget-friendly-but-still-nice yarn, my languishing affiliate accounts appreciate your clicks 🙂