This past week I knit the quickest sweater ever. I knit it twice, in fact, and it still only took me six days.
Why twice? If you take a look at that teddy bear picture, that was the first iteration of the sweater. You may notice that the third textural stripe is inconsistent. On one side of the button band it has three rows in it, and on the other side it has two.  I knit all the way to the bottom (I had a mere four rows left to go) before I noticed it.
I considered gifting it as-is, but the more I looked at it, the more it bugged me. So, I ripped back to the mistake and re-knit most of the sweater.
I'm glad I did, too. It makes me so much happier to look at it now.
Before this, the last thing I knit was my big red sweater, which totally ruined my enthusiasm for the craft. Burnout. That was six months ago and I had no desire to pick up the needles again until a week ago. September will do that to a person, I suppose. The knitting bug bit me hard, and I was suddenly desperate to knit a sweater.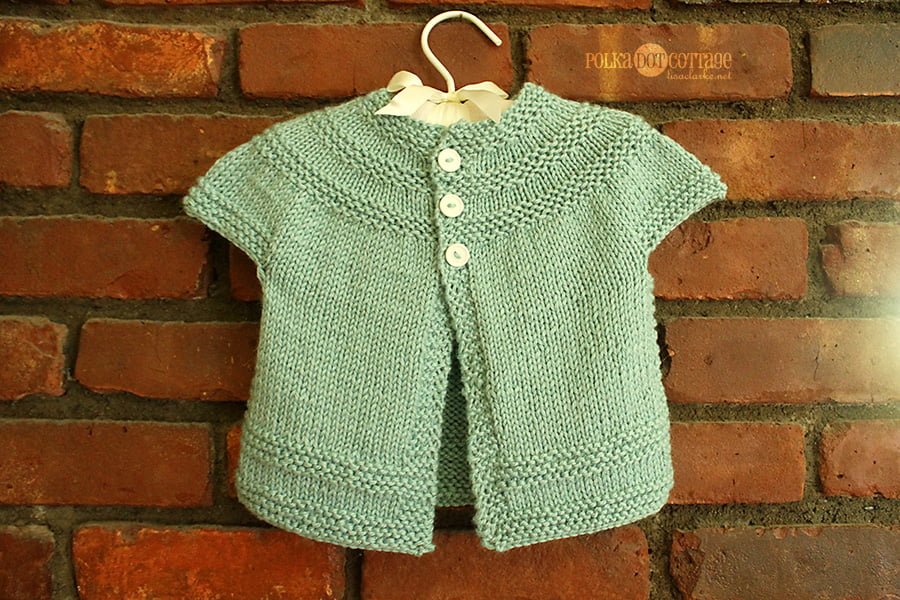 I don't usually use craft store yarn (I guess working in a LYS for a while spoiled me) but I wasn't able to go shopping, and I had this Bamboo Ewe in my stash from some failed experiment or other, and I had plenty of it. As it turns out, it makes a really soft and squishy baby sweater.
The details
Pattern: In Threes: a Baby Cardigan by Kelly Herdrich
Yarn: Stitch Nation Bamboo Ewe in Beach Glass
Needle: 8
Modifications: None.
Next up? Another Tea Leaves for me. I have worn the daylights out of the first one I made. I love it! But there are one or two things about it that I have wished I could change. A sale on Cascade 220 Tweed at WEBS made me commit to another one. Just waiting for the yarn to arrive…
P.S. Some of you requested that I offer buttons and pens in the shop? Your wish is my command!