Posted July 18th, 2014 by
Lisa
Happy Friday!
You know, in the summer, I am lucky to remember what day it is. When the kids are in school, it's important for me to keep track of the family schedule. But these days, when there is an erratic schedule if there is one at all, I run the risk of forgetting to put together the weekly favorites post on time.
I haven't forgotten yet, but it's been close a few times!
On Flickr
The mosaic below represents other people's pictures that spoke to me this week. Be sure to click on the titles below the mosaic, if you want to know more about the image or the photographer behind it.
1. layout decided, 2. Good Evening! More spoils from the CSA! #fromwhereistand #themugchronicles #csa, 3. pendant, 4. barrel beads, 5. Carved Polymer, 6. bangle blogged for www.craftliners.blogspot.nl, 7. When yesterday evening I was sharing my plans for today, I wished I'd get up early… eeeer.. earlier than usual. I didn't know my body would take it that seriously. Hey, 5 a.m. ? Oh… #coffee #cup #colorful., 8. Loner's odds'n'bits #woodlandtale #clothes #doll, 9. otter vase, 10. little flower*, 11. Touch Me Softly…, 12. Anillo y pieza calabrote para pulsera, 13. Untitled, 14. DSC_2128, 15. Walk in the rain., 16. やぁ!おはよう!
Around the Web
I spend some time earlier in the week sharing my favorite crafty links through social media. And then I repeat them here on Fridays.
That's it for me. I'm off to do something fun and summery now. Have a great day!
Posted July 16th, 2014 by
Lisa
I picked a whole quart of these juicy red treats this afternoon, braving thorns, underbrush, and all manner of pesky little flying creatures, and there are still plenty left on the vine.
It's a shame I can't entice my children to collect berries as enthusiastically as they once did. Maybe I need to institute a "you can't eat them unless you pick them yourself" rule…
If you have wineberries where you live, you might like to know that they make a delicious fruit crisp when paired with blueberries and peaches.
This past spring I made a few allergen-free strawberry crisps (since so many people in our families are avoiding wheat or dairy these days) and I think I'm going to combine that new recipe with the one I linked to up there and see how it goes. If it goes well, I will share! [update: duly shared!]
The berries freeze well if you can't use them right away. I was finishing up last year's harvest in my green smoothies a few months ago, in fact.
I haven't had a lot of luck turning them into jam in the past – I find it too fiddly to figure out the correct amount of pectin and sugar. And besides, I think I may be over my jam phase. Maybe.
They are so good right off the vine. I say this as someone who is not much of a berry person. I do enjoy these though. Perhaps it's the novelty of having them grow right in my back (and front, and side) yard that makes them so satisfying a snack.
I almost always bring in a new friend or two with a batch of berries. This guy was escorted gently back outdoors and left to find somewhere-not-my-kitchen to hang out.
Here are some wineberry resources for your nibbling pleasure:
Happy berry picking
Posted July 15th, 2014 by
Lisa
I got cozy with It Girl Crochet by Sharon Zientara recently.
From the introduction:
The concept of the "it girl," a woman who possesses a certain quality that attracts others, was popularized in the 1920′s by Clara Bow, star of the film It, but like fashion and crochet it transcends time.
Zientara has collected a variety of crochet accessory patterns meant to epitomize this idea, and she groups them into three sections based on fashion eras:
"Crochet Nouveau," "It's a Mod, Mod World," and "A Brave New Boho." I find that I am most attracted to the Bohemian-inspired projects, although there are plenty of nice designs in the other sections, including a really nifty Mod purse and some lovely shawls.
The book jumps right into the projects without a how-to-crochet chapter, although there is a glossary of stitches and diagrams in the back of the book if you need a refresher. As I become a more experienced crocheter, I find I appreciate books like these that get right to the good stuff.
The Gypsy Slouch hat up there? It has the potential to put an end to my annual January hat woes next winter. But I'd probably do it without the beads.
I never (never!) wear belts but the Haute Hippie belt really grabs me. I may use the technique on something else. Maybe a headband?
And I really like that lacey top, but I'd probably make it longer and wear it over a camisole.
As you can see, now that I have a handle on basic crochet skills, I tend to look at patterns more as a jumping-off point than a strict set of rules. Many of the projects in this book would lend themselves beautifully to experimentation, I think.
You can get your own copy of It Girl Crochet at your local book store, at Amazon, or directly from the Interweave Store.
(The usual disclaimers apply re: books received, reviews given, and links provided.)
Posted July 14th, 2014 by
Lisa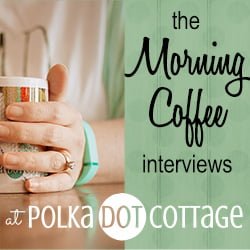 Welcome! It's time for another chat with another lovely creative blogger. Say hello to Blair Stocker of Wise Craft!
New to Morning Coffee? Monday mornings we sit down with some of my favorite writers & creative people, and get to know a little bit about their blogs and why they do what they do.
Once in a while I also interview Polka Dot Cottage readers, so if you write a creative blog and would like to participate some future week, drop me a line and we'll talk about it!
Ready for today's interview? Let's go
Why Wise Craft?
Add Wise Craft to the list of blogs I have been visiting for many years. Blair has her hands in many media, most of which are the same ones that appeal to me. So naturally, I've stuck around. I had a great time participating in Blair's Granny Square Sampler crochet-along a few years ago (although, shhhhh – my blanket isn't finished yet!) and I often find myself sharing Wise Craft links or Blair's photos in my Weekend Favorites.
There is a book now: Wise Craft: Turning Thrift Store Finds, Fabric Scraps, and Natural Objects Into Stuff You Love
, which is full of the kind of great stuff that has made Blair's blog so popular.
Q&A with Blair Stocker
It's so lovely to have Blair with us this morning. Read on!
Welcome, Blair!  When and why did you start your blog?
I started blogging in 2005, when my kids were small and I was home all day with them. It kept me connected to my creative side, gave me a place to share my work (originally with family, mostly). Days were often a blur when I was chasing small ones around all day, and my blog was proof to myself that I was still, in fact, making all kinds of things. I loved the journal keeping aspect of it.
Has your blog evolved significantly since you began it, and if so, how?
My blog has evolved quite a bit, which is inevitable when you've been blogging as long as I have. I wrote a book, Wise Craft: Turning Thrift Store Finds, Fabrics Scraps, and Natural Objects into Stuff You Love, in 2014, and now I regularly speak with groups and teach classes about creatively reusing all kinds of materials. My kids are now 12 (almost 13) and 15, so they don't necessarily want to be a regular part of my blog, which I completely get. I have more time now to focus on creating a handmade business out of this obsessive passion of hand making that I have. I still post a lot of projects, but these days I post less about family, although they still sneak in there on occasion!

It seems that Instagram has become the place I share the more up to the minute, day-to-day glimpses into my daily life and studio work. I love the immediacy of Instagram.
How does your blog fit in to your daily life?
I try to make a blog posting schedule, but only manage to stick to it sporadically. My blog is specifically for posting my own creative work (I don't have ads or sponsored content) so I don't feel pressure to post every single day, but I like to be consistent. Often during big creative spurts I will write several blog posts all at once in a day. Other times I will use sitting down and writing a blog post to get me motivated. But I don't ever like to post without thinking about it, those posts are never good.
Is blogging something you can easily explain to your family and friends?
It's never been easily described, but then I also tend to stumble over a good description of what it is I do, exactly, to anyone. My father lives 3,000 miles away from me and doesn't own a computer, so I'm sure I've never tried to explain a blog to him, because he would have no context. My mother checks in often, but only gets really excited when she sees pictures of my kids
How important are reader comments to you?
Commenting used to be the single most important conversational tool to bloggers. Reader popularity meant lots of comments, which was always the goal, right? I think that has drastically changed. I turned commenting off on my blog when I moved it to its new platform. Not because I didn't want to hear from readers, but because it never feels good to measure a blog post by the amount of comments. Plus, the back and forth I have with my readers tends to happen on Facebook, Instagram, and Twitter, but not on the blog. I read lots of blogs, but rarely comment, its just too hard on my phone.
In what ways has blogging enhanced your life, if any?
Well, I would have never written a book if it hadn't been for my blog. It became an only CV of sorts, to show what I was capable of doing. After years of blogging about and posting projects I've done, it became clear that I had an aesthetic that I'd never even stopped to consider. ("Wow, I like a particular shade of blue- ALOT!"). I have made friends and connections that will be a part of my life from now on. Friends I know I can count on, who support me (and vice versa), and some of them I may never meet in person. It's strange to think about, but blogging has made the world delightfully smaller for me.
What's next for you?
I will continue to produce more quilt patterns, teach, DIY our home and blog about it, and hopefully write more books!
Thank you, Blair, for taking the time to answer my questions and for allowing me to use your photos to illustrate our conversation. It's been a pleasure!
Want more?  You can find Blair in the following places:
Posted July 12th, 2014 by
Lisa
Welcome to TWiP, aka This Week in Pictures.
This week, the boys and I have been out a lot. We took few short trips and a longer one, all of which has meant there's been plenty of driving and plenty of swimming. Yep, it's definitely summer!
(FYI, my Project 365 this year has changing monthly themes. July is "Summer" and I am using Tracey Clark's daily photo prompts from her Picture Summer class.)
Saturday
Instagram: The best part of the magazine section as far as I'm concerned
365: Summer 5/31 – Tall Drink of Water – (Translation: Capture the details that make a drink refreshing) Four years ago when I did this prompt, I took a picture of a blended coffee drink. Nowadays, though, I'm a convert to ice water. So refreshing
Sunday
365: Summer 6/31 – Wide Open Spaces – (Translation: Take a picture of a vast landscape.) I was going to use by back yard, photographed from low on the ground, but I realized I did that exact same thing last time I did this project. So instead I chose the sky. I'm not entirely sure the sky qualifies as "landscape" technically, but it certainly qualifies as "vast!"
Monday
365: Summer 7/31 – So Subtle – (Translation: notice the understated colors of summer.) I guess there's not much about a bright orange lily that is understated, but I like how there are subtle variations of color within each petal.
Tuesday
365: Summer 8/31 – Treasure Hunters – (Translation: take a picture of natural artifacts you've collected.) These days, when we pick things up off the sand, they don't make it in the house. We have a perpetual collection of treasures still in the beach buckets in the back of the van.
Wednesday
Instagram: Yes. Yes it is. #lifeisgood
365: Summer 9/31 – The Shape of Things – (Translation: take a picture featuring a favorite shape). I am drawn to circles a lot.
Thursday
365: Summer 10/31 – Making Memories – (Translation: take a picture of a summer memory you want to look back on, and try to give it a dreamy feel in post-processing.) This morning we had our collaborative mp3 cd in hand, and set off on a little adventure. For processing, I used a photoshop action I found on deviantart by Jules1983, called Cinnamon. I've been playing with that one a lot over the last few days.
Instagram: Settling in for the night with a library book from home.
Friday
365: Summer 11/31 – Treat Yourself – (Translation: Do something special for yourself and capture it.) I took myself to my favorite used book store and came home with a couple of treasures from the crafty aisle.
Thanks for taking a peek at this week's photos! If you want to see this stuff as it happens, please feel free to follow me on Flickr.
I may already have plans to blog about some of these things in greater detail over the coming week, but be sure to leave a comment if there's something in particular you want to know about!