Posted September 29th, 2014 by
Lisa
Ok, NOW it is finished. Pockets duly added.
They were very simple to knit, but a pain in the neck to sew on. That's probably just me, though. I do not enjoy seaming knitted things together.
In fact, don't scrutinize those pockets too closely. They're not perfect. But then, neither am I, so I'm satisfied!
Posted September 27th, 2014 by
Lisa
I'm starting to see the change of seasons in my everyday life, from the warm harvest gold of the fine-gauge sweater I throw over my shoulders these nippy mornings, to my leafy pajamas and the actual leaves underfoot on the path at the park.
I enjoy September. The early and late hours are full of cozy indulgences like handknit sweaters and store-bought coffees, while the afternoons are still Summer-like, pleasant, and perfectly-suited to driving with the windows down and the music cranked up.
This was a really good week for family fun and Autumn weather. Yay, September!
It's a roundup of the photos I shot for my Project 365, plus some everyday-life images I posted on Instagram during the previous week. (FYI, my daily photo project this year has changing monthly themes. For September it's simple: mugs. A month of my morning coffee and other delicious drinks.)
Ready? Cast your mind back to this time last week…
Saturday
365: Mugs 20/30 – We're celebrating Dad's 70th today. Some assembly required.
Instagram: Party hats put together? Check! #dads70th
Instagram: Mustaches on sticks, birthday signs, and a stand-in-on-a-stick for the oldest grandson, who's away at college? Check! #dads70th
Sunday
365: Mugs 21/30 – I always love that sunday-after-a-party, photo-processing day.
Monday
365: Mugs 22/30 – Sunflower update: still here, still really need to do something about them, even more bedraggled than before: http://ift.tt/1v8tTw6
Tuesday
365: Mugs 23/30 – I got the kids off to school bright and early, but now I'm having trouble getting going. I suspect being horizontal is not helping.
Wednesday
365: Mugs 24/30 – I went to write my to-do list for the day, and discovered that the "chalk" pen I used yesterday doesn't wash off with water like my others. Meyer's Clean Day (Honeysuckle scent) + elbow grease to the rescue!
Instagram: I decided my new sweater needs pockets after all… #knitting #seastones
Thursday
365: Mugs 25/30 – It's a rainy Fall morning. The kids are off from school. One is sleeping, one is playing video games, and I am doing my usual photo-editing-over-breakfast thing.
Instagram: It's a beautiful moody fall afternoon. Perfect for walking in the park.
Friday
365: Mugs 26/30 – This morning's coffee break came complete with almond butter cookies and an Autumnal cloth napkin.
Thanks for taking a peek at this week's photos! If you want to see this stuff as it happens, please feel free to follow me on Flickr.
I may already have plans to blog about some of these things in greater detail over the coming week, but be sure to leave a comment if there's something in particular you want to know about!
Posted September 26th, 2014 by
Lisa
Thanks for your nice comments on my sweater post the other day. I'm always so happy right after a big project comes off the needles – I wear it every chance I get! I've decided I do want to put pockets on it. I already knit them last night, in fact. I just have to sew them on. That sounds like a job that would be perfect in front of a British mystery with a nice cup of tea. Mmmmm. Think I'll be cozying up with that tonight.
On Flickr
The mosaic below represents other people's pictures that spoke to me this week. Be sure to click on the titles below the mosaic, if you want to know more about the image or the photographer behind it.
1. New Millefiori Geometric Canes, 2. dans la cuisine, 3. Romantic Czech Glass with Freshwater Peals on Antique Brass Chain, 4. miss maggie rabbit making, 5. Avui festa!Matinal de costura a casa#kacuku #relax #patchwork #nousprojectes#, 6. 9:21:2014, 7. A little treat bought @67thepincushion with @claireinstitches today! I had such a lovely day – thank you @leighsideknits your KAL is the gift that keeps on giving, 8. croisic, 9. ship in a bottle floss colors, 10. Mail Embellishment, 11. Bisutería y platos de arcilla polimérica., 12. Tecnica de transferencia sobre arcilla polimerica
Around the Web
I spend some time earlier in the week sharing my favorite crafty links through social media. And then I repeat them here on Fridays.
Wait Your Turn for the Swings at Boston's Adult Playground – something cool via CityLab. This is so neat! I hope it's still here when we visit this exact area next winter. We rarely leave the hotel during those cold February weekends, but this would totally be worth a short brisk walk.
Making Rainbows – colorful polymer clay extrusions from Inspire to Create. Ronit Golan makes some pretty rainbow extruded canes (and show you how she does it) but my favorites are the ones with some dark blue mixed in. I'm a big believer in adding contrast to your polymer extrusions.
Ultimate Photo Playlist: Songs That Really Click – a list of tunes by Photojojo. Looking through this list of songs about photography and picture-taking, I feel a new playlist coming on…
Have a happy, Autumnal Friday!
Posted September 22nd, 2014 by
Lisa
I finished my September Sweater for 2014! You may notice a few things:
it's short-sleeved (my others are all long)
it's a raglan (my others are all round yoked)
it's long (my others are all hip-length)
it's not green (two out of three of my others are green)
All of those things set it apart from my previous September Sweaters. See 2013, 2012, and 2011.
In the last few years I have actually knit quite a few sweaters that were like those previous September Sweaters: hip-length and round-yoke. See Tea Leaves, Everyday Cardigan, Everyday Pullover, and In Threes.
Yeah. In fact, I was composing this post in my head last night and I actually fell asleep counting sweaters! It's the knitter's version of counting sheep, I guess. Now that I am wide awake, I have made it to the end of my list and I can tell you there have been 11.
Yes, that's eleven round-yoke, hip-length sweaters in the last three years. Admittedly four of them were baby or toddler size, and took very little time to knit, but still! I'm kind of impressed with myself. And that doesn't even include the one I have in progress.
So, anyway, back to this new sweater, and the different-ness of it:
I love that I chose this brown color for the yarn. I really needed something relatively neutral in my closet. There's whole lotta green in my sweater pile, folks. And a little bit of orange. And some gold. But mostly green.
The yarn is undyed (I think), and a natural alpaca/wool blend that I bought at Rhinebeck last year. I chose to make this year's September sweater out of it because my September Sweater is also always my Rhinebeck sweater, and it felt like a very full-circle kind of thing to do.
The Rhinebeck connection is also the reason why I named it Hudson River Stones (the pattern name is Sea Stones). We spend a lot of time driving alongside the Hudson on our way to the festival.
The alpaca content of this yarn makes the sweater so soft. I've been wearing it all day today with a camisole underneath, so the wool has been in contact with my shoulders. It's pleasant and cozy.
With the exception of the stockinette body, which seemed to go on for miles, and miles, and miles, this sweater was a pleasure to knit. It provided an opportunity to learn some new tricks, which is always nice.
The raglan increases were turned into a decorative element through the use of twisted stitches and M1R/M1L, which are both techniques I had never done before.
The decorative edging at the collar, hem, cuffs, and button band was different than my usual 2×2 rib and/or garter stitch, and in some areas required a sewn bind-off before beginning. That was a new one on me, too.
I am thrilled with the way this came out! Mostly. I do have one little irritating thing that maybe you can help me with?
See how those button bands fold inwards? It's driving me crazy. I really want them to lay flat. I'll admit I haven't actually blocked this sweater (yet?) but I don't feel like that would solve the problem. Am I wrong? Should I do it?
I hesitate mainly because I am happy with the fit as it is and I don't want to block it and accidentally ruin that. If it will help the button band situation, though, I'll risk it!
Knitters, what do you think I should do?
The Details
Pattern: Sea Stones by Melissa Schaschwary.
Yarn: Brooks Farm Yarn Tierra Blend
Needles: #7 and #5 (I went down a size to get stitch gauge, although my row gauge was still off. I had 5 rows/inch instead of 6.)
Modifications: To make up for my different row gauge, I knit about 20 fewer rows in the body, and 1-2 less in the edgings. Also, the pattern calls for patch pockets, which I didn't do (although I am considering it now).
Posted September 22nd, 2014 by
Lisa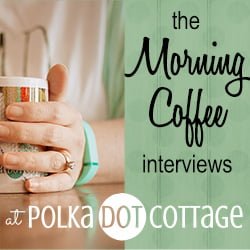 Welcome!  The masses have spoken. Or not spoken, as the case may be. It looks like everyone is perfectly happy for Morning Coffee to take another hiatus. I'm cool with that.
So today we will talk with bzzzzgrrrl of City Mouse Country, and then take another long break. Ok?
New to Morning Coffee? For several Monday mornings we have sat down with some of my favorite writers & creative people, and gotten to know a little bit about their blogs and why they do what they do.
Ready for today's interview? Let's go
Why City Mouse Country?
I don't usually allow aliases as part of this series, but bzzzzgrrrl is a personal friend (we go waaaaaay back to college) and she requested I maintain the relative anonymity she enjoys with her blog. As a friend, she gets perks!
The fact that I am willing to sit here and count out z's and r's every time I write her alias should prove our friendship.
It would be so much easier to just write her name
City Mouse Country is different than most of the other blogs I read. It's not bursting with photos, or showing off creative projects. It's just a slice of life, written in an entertaining and engaging way.
Q&A with bzzzzgrrrl
I'm so glad to be chatting with bzzzzgrrrl (and I thank her for waiting more than a month for me to get my act together and post the darn thing already). Read on!
Welcome, bzzzzgrrrl!  When and why did you start your blog?
I moved from the Washington, DC, area to a smallish college town in New Hampshire in 2007. Though I've lived way more in ruralish places than urbanish places, I liked DC, a lot, and had a nice group of more cosmopolitan friends there who were, for lack of a better term, horrified.

They got very wide-eyed, asking me about all the things I'd surely miss and how cold it would surely be. As soon as I moved, I found myself e-mailing mobs of people about what it was actually like, and a blog seemed easier.
Has your blog evolved significantly since you began it, and if so, how?
When I started the blog, it was very slice-of-lifey, and maybe a little Green-Acresy. I was definitely showing off a little for my city friends, with healthy doses of funny stories at my expense.

I still write funny stories at my expense, but I've been back in New Hampshire for nearly as long as I'd lived in DC, so I'm a little less aw-shucks about it. I write more about my bad TV habits and less about the weather than I used to.

I also used to be weirdly afraid to write about religion or social justice or LGBTQ issues, which was just silly of me. I still write mostly about other things, but the posts I write that gain real traction tend to be about those things, specifically.
How does your blog fit in to your daily life?
I *wish* I had routines. I write a lot for my day job, and then have a lot going on with family, friends, my partner, volunteer activities, and watching truly awful TV, so I tend to write only when the mood strikes. Sometimes I give myself a gimmick that gets me posting every day, and sometimes I wander off for a month. I should arrange for my blog to fit into my daily life. That'd be neat. I bet the design would be better, too.
Is blogging something you can easily explain to your family and friends?
My family (that is, parents, sibling) are almost shockingly uninterested in my blog. Which, as far as I'm concerned, means I can write whatever I want about them.

My friends largely get it and like it, though, and still make up by far most of my audience. My partner has been very understanding and has featured in some posts in the year we've been together.

One of my good friends and biggest cheerleaders actually ran into my parents at a party I was not at and sung my praises so loudly and proudly that they felt compelled to go read the blog that day, and said they enjoyed it. It has not, however, compelled them to return.
How important are reader comments to you?
Reader comments are INCREDIBLY important to me. If I got no comments at all, I would still blog, but only if I were getting feedback IRL: "Hey, I loved that one post," or, "I shared that thing you wrote with my cousin, who shared it with his rabbi."

I do not write in public for the joy of writing. I write for an audience (granted, a small one). If I didn't have one, I'd stop. Does that make me a narcissist?
In what ways has blogging enhanced your life, if any?
It was extremely soothing when I first moved, just as a way to maintain ties to my friends in DC. It still serves that purpose, which is neat, but also, it's been a great way for me to explore Big Ideas — often with some humor inserted.
Do you think blogging makes you smart and funny and good-looking?
No. I think I'm just lucky that way.
Thank you, bzzzzgrrl, for taking the time to answer my questions and for allowing me to use your photos to illustrate our conversation. It's been a pleasure!
Want more?  You can find bzzzzgrrl at City Mouse Country.