Posted September 22nd, 2014 by
Lisa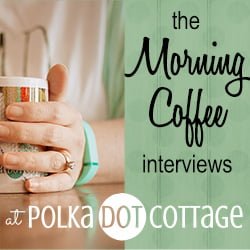 Welcome!  The masses have spoken. Or not spoken, as the case may be. It looks like everyone is perfectly happy for Morning Coffee to take another hiatus. I'm cool with that.
So today we will talk with bzzzzgrrrl of City Mouse Country, and then take another long break. Ok?
New to Morning Coffee? For several Monday mornings we have sat down with some of my favorite writers & creative people, and gotten to know a little bit about their blogs and why they do what they do.
Ready for today's interview? Let's go
Why City Mouse Country?
I don't usually allow aliases as part of this series, but bzzzzgrrrl is a personal friend (we go waaaaaay back to college) and she requested I maintain the relative anonymity she enjoys with her blog. As a friend, she gets perks!
The fact that I am willing to sit here and count out z's and r's every time I write her alias should prove our friendship.
It would be so much easier to just write her name
City Mouse Country is different than most of the other blogs I read. It's not bursting with photos, or showing off creative projects. It's just a slice of life, written in an entertaining and engaging way.
Q&A with bzzzzgrrrl
I'm so glad to be chatting with bzzzzgrrrl (and I thank her for waiting more than a month for me to get my act together and post the darn thing already). Read on!
Welcome, bzzzzgrrrl!  When and why did you start your blog?
I moved from the Washington, DC, area to a smallish college town in New Hampshire in 2007. Though I've lived way more in ruralish places than urbanish places, I liked DC, a lot, and had a nice group of more cosmopolitan friends there who were, for lack of a better term, horrified.

They got very wide-eyed, asking me about all the things I'd surely miss and how cold it would surely be. As soon as I moved, I found myself e-mailing mobs of people about what it was actually like, and a blog seemed easier.
Has your blog evolved significantly since you began it, and if so, how?
When I started the blog, it was very slice-of-lifey, and maybe a little Green-Acresy. I was definitely showing off a little for my city friends, with healthy doses of funny stories at my expense.

I still write funny stories at my expense, but I've been back in New Hampshire for nearly as long as I'd lived in DC, so I'm a little less aw-shucks about it. I write more about my bad TV habits and less about the weather than I used to.

I also used to be weirdly afraid to write about religion or social justice or LGBTQ issues, which was just silly of me. I still write mostly about other things, but the posts I write that gain real traction tend to be about those things, specifically.
How does your blog fit in to your daily life?
I *wish* I had routines. I write a lot for my day job, and then have a lot going on with family, friends, my partner, volunteer activities, and watching truly awful TV, so I tend to write only when the mood strikes. Sometimes I give myself a gimmick that gets me posting every day, and sometimes I wander off for a month. I should arrange for my blog to fit into my daily life. That'd be neat. I bet the design would be better, too.
Is blogging something you can easily explain to your family and friends?
My family (that is, parents, sibling) are almost shockingly uninterested in my blog. Which, as far as I'm concerned, means I can write whatever I want about them.

My friends largely get it and like it, though, and still make up by far most of my audience. My partner has been very understanding and has featured in some posts in the year we've been together.

One of my good friends and biggest cheerleaders actually ran into my parents at a party I was not at and sung my praises so loudly and proudly that they felt compelled to go read the blog that day, and said they enjoyed it. It has not, however, compelled them to return.
How important are reader comments to you?
Reader comments are INCREDIBLY important to me. If I got no comments at all, I would still blog, but only if I were getting feedback IRL: "Hey, I loved that one post," or, "I shared that thing you wrote with my cousin, who shared it with his rabbi."

I do not write in public for the joy of writing. I write for an audience (granted, a small one). If I didn't have one, I'd stop. Does that make me a narcissist?
In what ways has blogging enhanced your life, if any?
It was extremely soothing when I first moved, just as a way to maintain ties to my friends in DC. It still serves that purpose, which is neat, but also, it's been a great way for me to explore Big Ideas — often with some humor inserted.
Do you think blogging makes you smart and funny and good-looking?
No. I think I'm just lucky that way.
Thank you, bzzzzgrrl, for taking the time to answer my questions and for allowing me to use your photos to illustrate our conversation. It's been a pleasure!
Want more?  You can find bzzzzgrrl at City Mouse Country.
Posted September 20th, 2014 by
Lisa
My September "A Month of Mugs" theme sure makes it look like I drink a lot of coffee, doesn't it? Really, it's usually just one cup!
So in addition to all of the coffee-drinking, we had a party on Saturday for our four-year-old twin friends' birthday, and later in the week I knit my little heart out. Last night I bound off and wove in the ends on my Sea Stones cardigan, and I'd be wearing it today if it weren't so warm and pleasant outside.
I'll share a proper show-and-tell next week, when I've had a chance to take some nice pictures.
It's a roundup of the photos I shot for my Project 365, plus some everyday-life images I posted on Instagram during the previous week. (FYI, my daily photo project this year has changing monthly themes. For September it's simple: mugs. A month of my morning coffee and other delicious drinks.)
Ready? Cast your mind back to this time last week…
Saturday
365: Mugs 13/30 – There are very few things I actually enjoy about getting ready for a party, but dressing up the kitchen table in a vintage cloth is one of them. Why? Who knows. Let's just go with it.
Sunday
365: Mugs 14/30 – What's for breakfast the day after a party? Why, brownies of course! (10 seconds after this picture was taken, I tried to take another with better focus, and spilled coffee all over myself. So this slightly-out-of-focus shot will have to do, LOL!)
Instagram:
Monday
365: Mugs 15/30 – I guess it's time to take care of those party dishes I ignored yesterday…
Tuesday
365: Mugs 16/30 – A little light readig with my breakfast on this rainy morning.
Wednesday
365: Mugs 17/30 – I think it may be time to dispose of some of the more raggedy-looking sunflowers.
Thursday
365: Mugs 18/30 – *yawn*
Instagram: I am in the home stretch with this sweater. I can't help but clear the rest of the night's schedule and knit knit knit! (The last few days of work on my September Sweater is always so exciting to me! Every. Single. Year.)
Friday
365: Mugs 19/30 – Just the button bands left to go!
Thanks for taking a peek at this week's photos! If you want to see this stuff as it happens, please feel free to follow me on Flickr.
I may already have plans to blog about some of these things in greater detail over the coming week, but be sure to leave a comment if there's something in particular you want to know about!
Posted September 19th, 2014 by
Lisa
You know, this post almost showed up here super late.
I usually write these things up on Thursday nights, but last night I was so occupied by my current knitting project and I just couldn't put it down. The home stretch is like that for me. I finished the sleeve cuffs last night, and today I'm down to button bands. That's it. I'm very excited about this.
So excited, in fact, that I had half a mind to just blow off my morning tasks and knit knit knit.
Luckily, I sat myself down for a stern talking-to before that could happen, and now I am writing this post. When I am finished writing this post, I will brew my delayed morning cup of coffee (delayed every morning, because Neil hates the smell of the stuff and I am nice enough to wait for him to leave) and accomplish a few other important tasks, and then I will be a knitting maniac.
I will be wearing my new sweater by tomorrow.
Yippee!
On Flickr
The mosaic below represents other people's pictures that spoke to me this week. Be sure to click on the titles below the mosaic, if you want to know more about the image or the photographer behind it.
1. Thinking about this favorite #marthasvineyard spot. #vineyardhaven #salt, 2. Sometimes it happens…sometimes it doesn't, 3. 24 hours, 4. Brian Yates Pip, 5. granny's, 6. Socks in progress, 7. Inchies Euroclay Madrid 2014, 8. Autumn Cocoon bead, 9. Sunny Autumn Day in Trier, 10. morning fog, 11. Fully decked out in yarn! #crochet #handmade, 12. LQP10.cover, 13. Happy to be home and hooking… #crochet #wingfeathersshawl, 14. We just spent the loveliest sunny September afternoon with all sorts of friends visiting – it was just what I needed. The kids went and picked a bunch of apples from one of our trees (they're SO good!) and they devoured a huge pile (this recently thrifted, 15. Untitled, 16. Untitled
Around the Web
I spend some time earlier in the week sharing my favorite crafty links through social media. And then I repeat them here on Fridays.
Happy Friday!
Posted September 17th, 2014 by
Lisa
I think my husband and my kids are growing weary of hearing about my current quest. No. Scratch that. I know they are weary of hearing about it. They have reached the point of being unable to hide their weariness of it. I've seen the eyerolls and heard the "here we go again" sighs when I open my mouth to speak about it.
I get it. File management seems really, really boring.
But see, I don't think they realize quite how interesting the whole thing is to me! And yes, maybe I did tell them about one little bit of the project here, and another little bit there, but each time I have something to say it is actually different than the time before.
No, it seems I've over-saturated the market for this kind of talk here at home. It all sounds like the incoherent babblings of a digital-organization super freak to them now. Blah blah blah.
So. Guess what. This means it is your lucky day. Oh, yes. You get to hear about my current quest. Maybe you'll be fascinated. Maybe you'll read along with rapt attention.
Or maybe you'll join my family in the "how can this be of interest to anyone, anywhere?" camp. Although I hope not.
So here it is: I'm transitioning from managing my photo library with Picasa to managing it with Lightroom.
It sounds simple enough, assuming I understand the capabilities of both pieces of software. I thoroughly understand Picasa. And I'm learning about Lightroom.
When I started this whole thing, I really only intended to use Lightroom for its Develop module. I've been taking photographs in RAW mode since mid-August, which is great for a lot of reasons I won't go into right now, and Lightroom is a good tool for post-processing RAW files.
I had intended to continue managing my photo library with Picasa, because it has been working well for me for many years. I like that I can easily upload my images to Google+ (which is where I back them up, and where I share them with family), and I love the facial recognition of Picasa. Love. it.
But the more I play with Lightroom, the more I see that it can do 90% of Picasa's tasks along with most of the other non-Picasa uploading I do, and it can initiate these things with less effort. In fact, if Lightroom had facial recognition, I would probably be done with Picasa entirely.
So, I've made the decision to use Lightroom for almost every photo-library-related task I have, and just open up Picasa when I need to add some faces to the family photo album.
This is a cool decision and all, but I want to do it differently than I usually do things.
What I mean is, I don't want to act first and think later. With something as big (over 40K images!) and as important to me as my photo library, I really want to work out the details before I do anything.
Right now I have an organizational system that is working, but is unbelievably complicated. This is something I discovered when I diagrammed it out. My folder structure took up an entire page in my legal pad. Honestly, that really surprised me, because I thought it was all so efficient. It turns out that while my workflow may be a well-oiled machine at this point, it is anything but efficient.
So, I totally need to simplify.
And I am sure Lightroom can do it for me.
And I've even written out a new, less-crowded-with-folders, organizational idea in my legal pad.
And I'm chomping at the bit to put it into place.
But I am waiting.
Yes, I know. Little old chronically-impatient me? Waiting? It's absurd!
I've bought a Lightroom 5 book, which is supposed to be the most extensive book out there for discussing the file-management aspect of the software. The other Lightroom modules (like Develop) are ones that I can play around with and learn by doing. But the Library module holds the key to keeping my photos organized and sane.
I want to learn everything I can about what the Library module of Lightroom is capable of, before I start moving things around my hard drives. I've already tweaked my plan a little bit in response to some things that I've learned while reading, and there may be more tweaks to come.
By not rushing into this, I think I will end up with a folder structure and a workflow that will be sustainable for many years.
And during those many sustainable years, nobody's eyes will have to glaze over while I yammer on about folders and files and photos and Lightroom and workflow and and and…
Won't that be nice?
Posted September 16th, 2014 by
Lisa

I spend a lot of time thinking about my next crochet blanket. What colors would I use? Who would I give it to? Would it be motif-based like my others, or striped? What about ripples?
I have to admit, I have been intrigued by the idea of a ripple blanket for some time. Despite the fact that all four of us in the family now have our own crocheted lap blankets, and there is no need for more of them, I can't seem to stop thinking about the next one. And I often picture it as a ripple.
With this background, you can imagine I was happy to see 100 Colorful Ripple Stitches to Crochet land on my doorstep.

I'll bet you didn't know there were so many variations on the simple ripple.
Leonie Morgan presents fifty different types of ripple, along with an alternate color scheme for each. (Cascade 220 is used throughout the book, and all colors are specified, so it's easy to exactly replicate the look of a particular ripple, if you want to.)
There are single-crochet ripples, half-double-crochet ripples, granny ripples, bobble ripples, and shell ripples. There are evenly-spaced ripples and ripples of varying heights.

There are even ripples that are worked as motifs.
I never stopped to think about a star as a type of ripple, but I suppose it is!

There are some attractive finished projects in the book, too, including the expected afghan or two, pillows, and a scarf.
The instructions are clear, the colors are bright, and the ripples are tempting. Oh, so tempting!
You can get a copy of 100 Colorful Ripple Stitches to Crochet at Amazon and other book stores or local yarn shops.
(The usual disclaimers apply re: books received, reviews given, and links provided.)